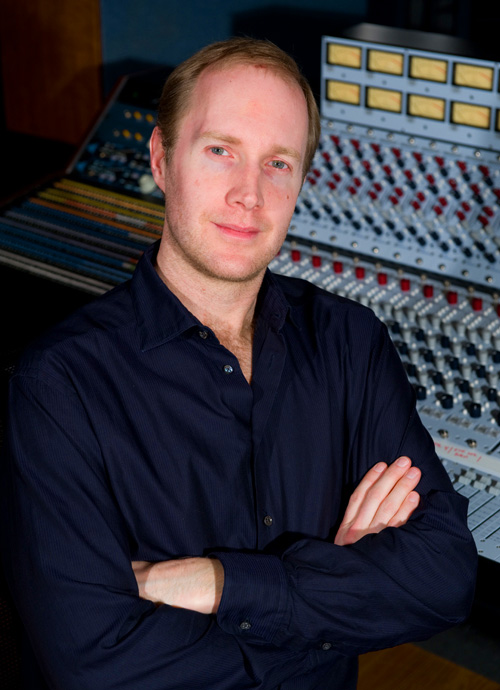 Jason G. Hearst is the owner and Chief Engineer of Hearst Creative, LLC / Hearstudios. Over the past fifteen years, he has accumulated a broad and varied background in the recording arts, multimedia development and management, in addition to a wide range of related advanced technical skills.
Before becoming involved with audio engineering and music production, Jason's career was still focused on related pathways. From 1996 through 1998, he served as assistant webmaster at WCVB-TV 5 (ABC affiliate), Boston, with additional responsibilities as Associate Producer for Chronicle, a highly popular nightly local newsmagazine. From 1999 through 2001, he was a partner with Ecomtopia / Ligature.com, of Jackson, WY, a regional internet news franchising project, where he acting as webmaster, graphic designer and business development manager.  Jason also worked at the School of the Museum of Fine Arts, Boston, MA during 2003, assisting in the instruction of relevant audio equipment and technology applications for creative integration into various art-forms and media. It was during this early 2002 period that Jason decided to make audio engineering his primary direction, taking relevant courses and seminars in the Boston region, and ultimately enrolling into Berklee College of Music's audio program.
He became a Summa Cum Laude B.M graduate at Berklee College of Music in Boston, with a major in Music Production & Engineering and an additional concentration in Electronic Production & Design. Seeking to further expand his skill-sets, Jason acquired deep and significant audio engineering expertise from 2001 to 2009 through numerous professional courses at Parson's Center for Audio Studies, studying directly under industry icons Tom Bates (Lecturer in Electrical Engineering at Tufts University, seven-time Grammy Award winner, credits include Paul Simon, Sting, Stevie Wonder, Metropolitan Opera, Saturday Night Live) and David Moulton (former Chair of Music Production and Engineering at the Berklee College of Music, Trustee for the New England Institute of Art and Vice President of Sausalito Audio, LLC, inventor of the BeoLab 5 loudspeaker, and a noted authority on audio for broadcast, regular columnist for  TV Technology Magazine, Recording Magazine.
During his six-year tenure at Berklee College of Music, Jason designed a unique scholarship program within the Music Technology Division, interfacing with the Hearst Foundation to create a $100,000 endowment that provides scholarships to deserving students in the audio and music production arts.
The evolution of the current incarnation of Hearstudios began during Jason's time in Boston. He built and managed a less formidable version of Hearstudios while attending Berklee, engineering and producing a wide range of projects ranging from and rock, reggae and hip-hop groups to solo singer / songwriters, music for video and other directions. Ultimately deciding to return to his home town area of Camden, Maine after graduation from Berklee, Jason's vision for creating a premier recording facility in northern New England began to take shape. Along with respected acoustician Lou Clark of Sonic-Space in Portsmouth, NH, and recording tech master Burt Price of Berklee College of Music, Jason conceived, designed, financed, and brought the current version of Hearstudios to completion across a three year period between 2010 and 2013. In 2012, he brought long time friend and veteran industry professional Bob Thompson on board to absorb the responsibilities of studio manager and creative director, allowing Jason to specifically focus on the engineering and production needs of Hearstudios' many clients and in-house projects.
Jason is also deeply involved in the local community in the Camden region, including sitting on the Board of Directors of the Bay Chamber Concerts and Music School, an internationally respected non-profit organization supporting classical and traditional music in Rockport, Maine, where he participates in marketing and business development committees.
In addition to his advanced audio degree, Jason has also earned a B.A. in Physics from Colby College, Waterville, ME, in 1994. He also attended Harvard Extension School, Cambridge, MA from 1998 through 1999. A skilled photographer and metal sculptor, Jason augmented his creative professional skills with studies at the Maine College of Art, Portland, ME and through a self-designed concentration in sculpture while attending Colby College.