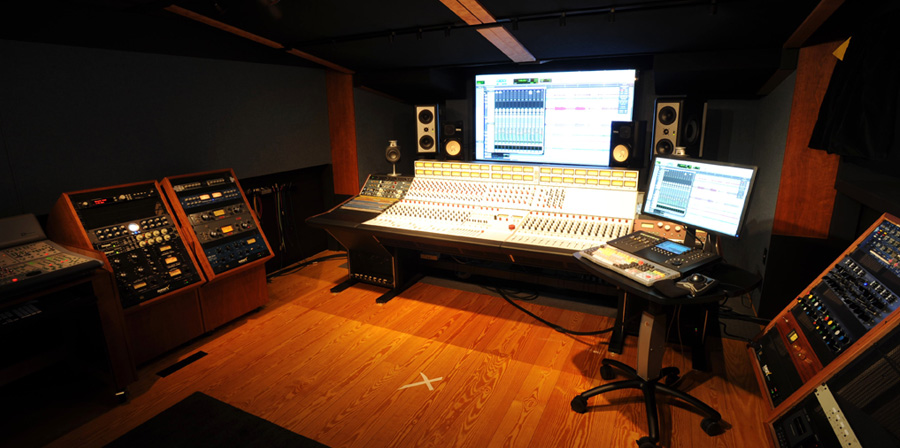 The HEARSTUDIOS control room features state-of-the-art digital and analogue equipment centered on a 32 channel Rupert Neve 5088 Console with Portico Array and a potent Mac Pro always running the most current version of ProTools and hundreds of the most popular and important plug-ins. For those seeking to work exclusively in the digital domain, an Avid Artist's Control or D-Command surface are also available, and can be used in either the control room or networked through Ethernet to be located in the live room or iso rooms. Top level mic pres and outboard gear are strongly represented in our equipment array and include iconic brands such as GML, API, Universal Audio, LaChappelle, Urei, Manley and many others.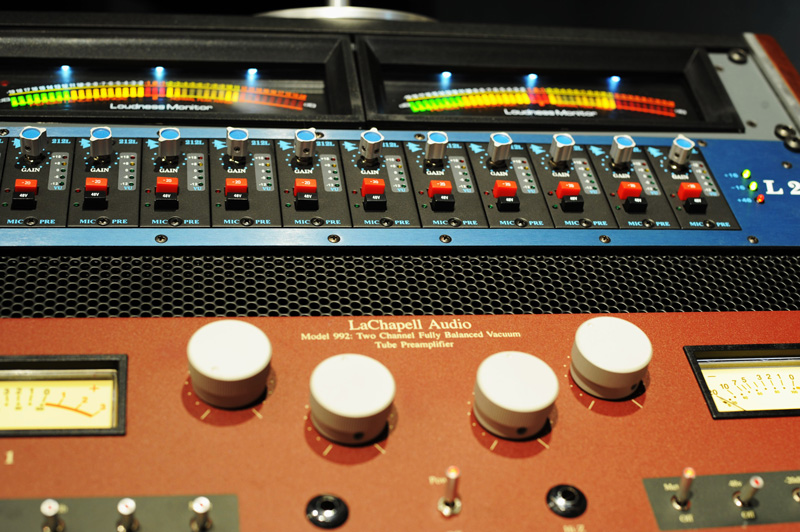 Our microphone selection is equally robust, and includes essential types and brands, including matched pairs of U87si, Coles, Lucas, Royer, Schoeps, Neumann, AKG, Sennheiser, Earthworks, Rode, and EV among others. Monitor your projects through Barefoot MicroMain MM27s, BeoLab 3 Surround / BeoLab 2 Sub (for 5.1 applications) and Yamaha NS10s.  View your audio data or video project on the huge video monitor or a smaller monitor mounted on the rolling cart for the Avid Artist Control, or use both for dual screen needs.
Cue mix options include the Rane HC6 and Furman HDS-6, with the latest Aviom 360 system (D800 Dante A-Net) due for installation in the very near future.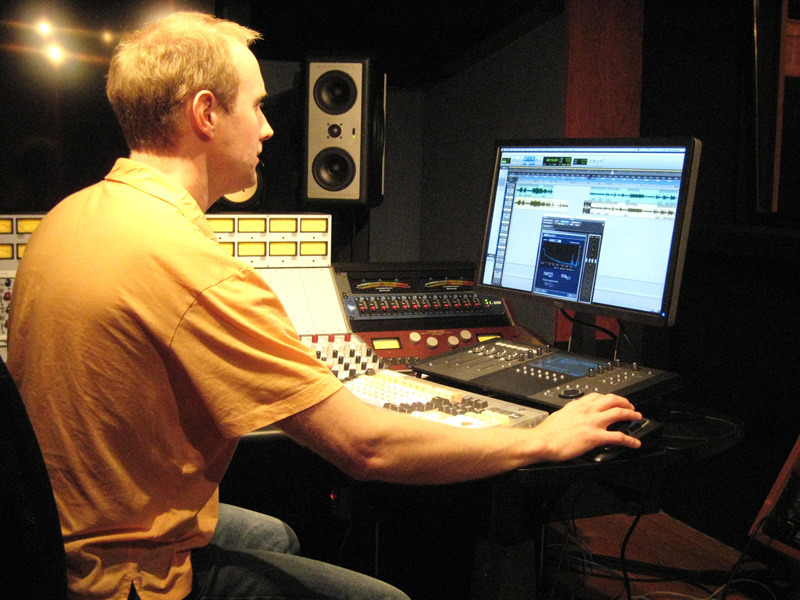 HEARSTUDIOS also offers a super-fast fiber-optic connection, allowing for rapid transfer and interaction of projects with other studios and mastering / duplication facilities, along with various applications related to film and video (coming in 2014), ADR, voice-over projects and more. Bands and artists of all styles will love our ability to live-stream recording sessions and small in-house shows to their fan base (the studio can accommodate up to a 50 person audience). Premier gear makes a big difference. Get it done right — on time, on budget, with superior quality — at Hearstudios.
Control Room Equipment (Continually Updated)
CONSOLES / ADD-ONS:
ž Rupert Neve 5088 Console w/ Shadowmix (32 Faders)
ž (16) Rupert Neve Portico 5051 EQ/Comp (additional 16 modules in 2014)
ž (1) Rupert Neve 5042 Tape Emulator
ž (1) Rupert Neve Stereo 5014 Stereo Field Limiter
ž (3) Rupert Neve 5033 5-Band EQ
ž Avid Artist Control
ž Avid Digidesign ICON D-Command
ž (1) Dourrough 40-C2 Stereo Meter
COMPUTERS:
ž Mac Pro (2 x 2.66 GHz 6-Core Intel Xeon) w/ 64 GB Ram
DAWs:
ž Pro Tools HDX (w/ v10 and 11 Software / most current updates)
ž Abelton Studio Live 9
MONITORING:
ž Barefoot MicroMain M27
ž Beolab 3 Surround with Beolab 2 Sub
ž Yamaha NS10
MIC PRES:
ž GML 4 Pre
ž (2) Neve 1073
ž (2) API 512c
ž (12) API 212L
ž (2) Purple Audio Biz Mk
ž (2) Empirical Lab Mike-e
ž (1) Universal Audio 2-610 (2 Channel)
ž (1) LaChapelle 992 EG
DYNAMICS:
ž (2) API 525 (Vintage)
ž (1) Pendulum Audio 6386
ž (1) Smart Research C2
ž (2) Empirical Labs Distressor EL8-X (with Brit Mode)
ž (1) Urei 1176LN D-series (Vintage)
ž (1) Urei 1176LN F-series (Vintage)
ž (2) Urei LA-3A (Vintage)
ž (1) Tube Tech CL1B
ž (2) Retro 176
ž (1) Elysia Mpressor
ž (2) Empirical Labs Mike-e (Compressor)
EQUALIZERS:
ž (2) Neve 1073 EQ
ž (1) Manley Massive Passive (2 Channels)
ž (1) GML 8200 (2 Channels)
ž (2) API 550A (Vintage)
ž (2) API 550A (Modern)
ž REVERB / DELAY:
ž Bricasti M7
DIRECT BOXES:
ž (1) Aguilar DB900 Tube DI
ž (1) Avalon U5 Pre/DI
ž (4) Radial JDI Passive DI
ž (1) Little Labs PCP Instrument Distribution
CD/TAPE
ž Tascam CC27 CD/Cassette Tape
HEADPHONE DISTRIBUTION:
ž (9) Furman HDS-6 System
ž Rane HC6 Headphone Console
ž Aviom 360 (coming Q4-2014)
ž (11) Audio Technica ATH-M50 Headphones
ž (5) Audio Technica ATH-M40FS Headphones
ž (1) Extreme Isolation EX29
MIDI
PLUGINS: