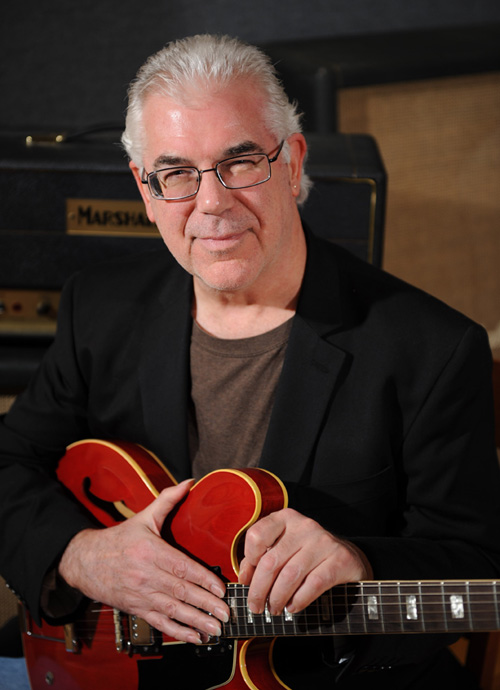 Bob Thompson (Business Manager / Creative Director) has been deeply involved with the Maine and New England music and recording scene for over forty years. A seasoned guitarist, respected educator and professional business manager, Bob's experience in performance, college and university instruction, studio production, arranging, guitar session work and music industry business is well known throughout the region. He brings formidable creative and business skill-sets to the Hearstudios' staff and the clients he serves.
Bob began his guitar performance career in the Connecticut and New York scene beginning in late 1960's, eventually touring extensively across the U.S. in a stylistically diverse array of bands. His love for the recording arts began with his first recording studio experience in the early 1970's at Magna-Graphics Studio in Greenwich Village, NYC. Across his years of touring, other influential recording experiences included recording at Cleveland Recording Studios with Ken Haymann engineering (Ken engineered Play That Funky Music White Boy by Wild Cherry), and several prominent Nashville studios while gigging at clubs on Printer's Alley. Upon leaving the road and returning to Connecticut in 1975, Bob played with some of the region's top rock and R&B acts, honing his skills as guitarist and studio session player, recording in many of the dominant studios of the time within the tri-state area. One experience of note that further enhanced Bob's love of recording was working on tunes at Connecticut Recording Studios in Bridgeport, CT, thorough his band-mate and engineer / producer Vic Steffens.
In 1979, forsaking a host of opportunities to become involved with the upper echelon of the national music performance scene in NYC and LA, Bob migrated to Portland, Maine to seek out and study with the revered finger-styled jazz guitar master Lenny Breau. While studying with Lenny, Bob became enthralled with the Maine landscape and lifestyle and decided to build a life for himself there. He immediately became the "first call" guitarist for all of the studios in the region (specifically Studio 3 and Megahone), playing, composing, arranging and co-producing on dozens of albums, radio and TV commercials, corporate and documentary videos / films and related projects.
In the late 1980s, as the Portland studio scene began to struggle with dwindling business, Bob conceived and brokered a deal with Tundra Publishing (a "division" of the company that created and owns the Teenage Mutant Ninja Turtles) to consolidate the failing studios in the region into one space, with the best musical, engineering and business talent from those various studios. Bob acted as president and project manager of that recording organization for three years, ultimately leaving to take a position on the Adjunct Faculty in the Jazz and Contemporary Music program at the University of Maine – Augusta. For the next twenty-five years, Bob taught as Adjunct Music Professor at the University (in addition to multi-year faculty relationships at Bowdoin College, the University of Southern Maine, and currently as Fretboard Harmony Instructor at Berklee College's Summer Guitar Sessions).
During his employment as college instructor, Bob also worked, in tandem with that position, as a music industry consultant and clinician. Across the past twenty-five years, he was a product clinician for Tascam (Eastern U.S. region), the Sales and Marketing Director for Dana Bourgeois Guitars, a consultant to several start-up boutique guitar ventures, and most recently (2002-2004) had temporarily left his University position to work as New England Regional District Sales Manager for Fender Musical Instrument Corp. He also continues to present occasional guitar, arranging, and studio session technique clinics in the region, on a wide variety of subjects.
Bob met Jason Hearst (Hearstudios owner and Chief Engineer) in 2002, prompted by a mutual enjoyment of the music performing arts and a love of the studio environment and associated technology. They remained close friends as Jason attaining his degree in Music, Production and Engineering from Berklee College of Music, and on through Jason's designing, building and management of the first incarnation of Hearstudios in Boston MA in 2008.
Upon Jason's return to his hometown area of Camden, Maine, in 2010, and the subsequent construction and launching of Hearstudios final incarnation, Jason asked Bob to come on board as business manager, creative director, in-house producer, arranger, session player, and technical assistant. Recently "retired" from the University, Bob now works full time for Hearstudios, LLC, and is also developing a small publishing company producing and distributing a range of college-level DVD courses on guitar theory and performance.
Contact Bob for any questions you may have about Hearstudios, to set up a visit, or to talk about creative issues regarding projects.